OKTO Partners With the European Casino Association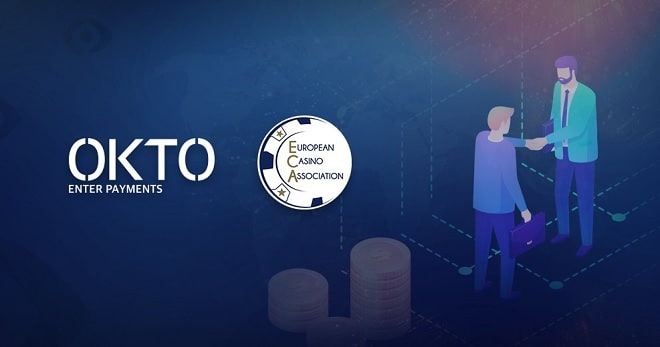 OKTO, a payment platform, announced the establishment of a strategic partnership with the European Casino Association (ECA). The ultimate goal is to expand the use of digital payments in the EU gaming industry.
ECA confirmed the partnership with OKTO and reaffirmed its ongoing commitment to pushing payment innovation and digitalization. It will allow all 900 casinos represented by the ECA to deliver top-notch digital payments experience to their customers.
In many facets of daily life, digital is the way of the future. Digital schooling, internet casinos, and banks that operate online are just a few examples. Even traditional businesses are adopting more digital solutions, such as digital payments.
OKTO will use its resources to help the European gaming community make more accessible and simpler payments. It already has started with several different partnerships but is now reaffirming its commitment.
OKTO Is Now a Member of the ECA
The ECA represents a total of 900 casinos in 28 countries in Europe, and it also has an impact on operators in other parts of the world. Its new partner OKTO will be able to offer clients digital and cashless payment guidance and strategic implementation plans.
One sector within the iGaming industry that is rapidly increasing is digital payments. There is a continuing desire for creative solutions that suit regulators' criteria as well as merchants' and consumers' needs.
Last month, OKTO signed a partnership with Forward Systems. This is the Unidesa Interactive division that provides management systems to casinos in Europe and Latin America. The partnership will bring OKTO's mobile-first digital solution to Spanish casinos and arcades. Since Cirsa owns Unidesa, the services may be expanded to the rest of the company's scope.
Cashless Payments Continue to Gain Traction
OKTO's collaboration with the ECA is the latest example of how digital payments continuously find a place in land-based gaming operations. JCM Global also announced a new partnership earlier this week that will allow every casino to adopt digital payments easily. The iVizion and Fuzion solutions of the company are part of Global Payments Gaming's VIP Mobility platform.
The new integrated product offers a cashless solution for every casino without regard to the CMS provider. Patrons can pay via mobile applications, and it helps casinos avoid expensive system integrations, CMS upgrades, and IP Pool fees that other cashless alternatives usually involve.
The integration enables casino guests to top up their accounts quickly. Then they can play slots, table games, and pay at restaurants using nothing else but their smartphones. Therefore, there is no need for complex system integrations at any point.
All players can decide how they want to interact with their favorite slot machines or table games. They have more funding options, and they can deposit and withdraw in a matter of seconds. This step is, therefore, a win-win for all involved parties.
Casino Operations Are the Heart Of ECA
ECA members are spread over 28 European countries and have more than 70,000 employees. They make the association one of the most respected casino associations globally. Simon Dorsen, OKTO's Chief Commercial Officer, said they enjoyed working with like-minded influential bodies like the ECA. He couldn't wait before sharing the news and exchanging knowledge with other leaders to drive the industry forward.
Hermann Pamminger, the Secretary-General of ECA, outlined that casino operations innovations were an essential part of the association's role. Its operations as an information network in collaboration with the EU institutions can completely re-shape the European land-based casino industry.
According to his statement, the partnership with OKTO is beneficial for ECA members. It will provide them with the latest developments and insights regarding digitalization and digital payments. Operators will better understand the requirements set by industry regulators. But, most importantly, it will help them understand how they relate to practical and genuine responsible gambling frameworks that dully regulated operators tend to implement.
What Can We Expect?
OKTO's digital payment solutions expertise was recently emphasized with the fintech's entrance into agreements with the Spanish operators Codere and Tecnausa.
Multinational gaming group Codere signed a deal with OKTO to implement the OKTO.Wallet payment app to its retail betting outlet and gaming machines. That way, players will be able to deposit and withdraw funds quickly and effectively. Also, the operator will decrease the cash handling, which is a massive benefit. As everyone remembers, cash payments were not recommended during the COVID pandemic, and this period highlighted the importance of alternative payment channels.
Tecnausa, the leading management system for arcades, decided to team up with OKTO in March. It deployed the OKTO.Wallet solution for its 38.000 gaming machines across the country.
OKTO and the OKTO.Wallet mobile payment solution allows for quick, easy, and safe payments for both physical stores and online businesses. The system is designed to reduce payment friction and improve customers' experience.
OKTO has been busy. This trend is expected to continue in the upcoming period as more and more businesses want the benefits that come with digital payment solutions. It's just a matter of time before many other casino operators start implementing the OKTO or similar services to handle online and offline payments.